All British Casino Review
As a true benchmark of British excellence, All British Casino is a remarkable portal which distils the nation's proclivity for gambling and imbues it with solid opportunities to add to your bankroll. The operator is not a random provider of gambling fun and everything down to the last detail has been carefully curated. The gamification of the portal has been guaranteed by the industry's top dogs, Microgaming and NetEnt, and the website's own commitment to responsible gambling has charted an exemplary course for the entire industry to pursue. As a licensed iGaming representative commanding respect & a strong player base, reviewing the offer will be a properly daunting task. One which we nevertheless have carried out in full.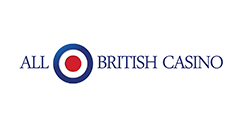 Great selection of gaming options across multiple categories
Quick payouts
Fully licensed and accredited by the UK gambling authorities
Hits
Highly-responsive on both desktop and mobile
The beautiful and intuitive design allowing quick & easy navigation
Polite and helpful customer support
Misses
Lack of 24/7 customer support
International support calls may incur fees
Country restrictions
Game Selection – A Quick Flick Around
The games can be accessed at a quick flick, indeed, but it may take quite a bit of scrolling before you have completed examining the complete selection. It's definitely not an easy thing to be one of the leaders on the iGaming scene in the United Kingdom. Customers have expectations and a variety of the game titles available is one of those. Even then, All British Casino does a great job out of sorting its products in separate categories, making for an easy navigation of the website.

All British Casino do a great job of organising their catalogue of games
You can quickly choose your favourites. One important distinction you may want to make is that between video slots and slots themselves. Slots is a blanket term we use to describe the old-fashioned games you may have seen in land based casinos a few years back. The video slots have been a complete overhaul of these, introducing a number of features, such as better payouts, more bonus rounds, and quite the handful of free spins

Video slots give players more and better features including free spins and better payouts.
The gaming selection has been calibrated by NetEnt and Microgaming who are the main providers of every single gaming title that you may come across on the casino. Most casinos tend to lump together their video poker selection with the table games, but All British Casino draws a useful distinction, which helps you select the specific titles you truly want to play, and also discover a few new ones!
Software – A Reliable Framework
Your comfort at All British Casinos is guaranteed by the aforementioned providers, viz Microgaming and NetEnt. Both companies focus on providing you with specific titles that, in the most cases, work for both the desktop and mobile version. However, you will notice that NetEnt has managed to strike a better balance between desktop-exclusive and mobile friendly slot games. Microgaming has still some slack to pick insofar as the mobile segment is concerned.

Evolution Gaming help All British Casino in offering one of the best live dealer products on the market.
The live casino, however, is the doing of Evolution Gaming which are, hands-down, the benchmark bearers for all live casino set-ups out there. The company has outdone itself delivering over 100 different live gaming options for All British Casino and the operator's customers. All of this comes hand-in-hand with a generous return to player (RTP) rates.
The Return to Player (RTP) Rate – It Matters
One of the most important metrics for handpicking your next operator to play with is without a shade of doubt – the RTP rate. It's an indicator of what amount of the staked money you are likely to get back. These rates are usually crunched by the software developers themselves and operators are unable to tinker with those afterwards. The average rate for All British Casino is pinned at 97.68%, a respectable sum altogether.
Who guarantees the fairness of the rate?
All British Casino RTP is subject to the UK Gambling Commission and other third-party auditors. To ensure fairness, developers utilise an RNG generator, which allows customers to get a randomised outcome. The regular checks, on the other hand, make sure that no foul play takes place.
High Rolling – Gambling at Full Bore
If you want to experience the arguably more exciting side of gambling, you have come to the right vendor. Even though All British Casino will not provide high-rolling options in any specific offers, the game limits will be quite accommodating for budget players and high rollers alike. The juiciest stakes usually float around in the live dealer section of the portal. You may commit as much as £5,000 on a single spin of the roulette, but that amount will easily soar past the £10,000 mark, too.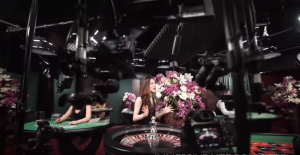 The immersive live dealer experience is the courtesy of Evolution Gaming.
Bonuses on All British Casinos
Shopping around for a bonus is always a good thing. For the most part, you have to deal with some pretty pesky wagering requirements, though, that will snuff your enthusiasm and occasion a series of unpleasant turn of events. How to then steer clear of such misfortune? Simple! Pick an operator that is committed to providing you with the best possible bonus options. Choose All British Casino.
Welcome Offer – A Moderate & Honest Bonus
The welcome offer excels in one particular area – you need only stake your bonus amount 35 times before you can cash out your winnings. Let's focus on the offer first. As soon as you deposit a minimum amount of £10, you will be granted a 100% matched bonus, up to £100. In other words, if you choose to commit £100, you will be awarded additional £100 bonus funds to play with.
This doesn't exhaust the offer, however. On top of the hard currency, you will also receive 100 free spins that you may use on a number of selected titles, specifically Starburst, Aloha or Pyramid. However, you need to commit at least £20 at the start for the bonus spins to be credited to your account.
Circling back to the free-spin-eligible gaming title, these are all well-paying slots that you will certainly be interested in to begin with. However, you need to remember that you have 30 days to turn over the bonus amount that you receive. Also, remember that not all games you wager on will count the full amount of your stake towards the wagering contributions.
With this in mind, it helps to know that all types of slots and lottery games award the full amount whereas video poker & table games will credit you only 10% of your stake towards your bonus contributions needed to fulfil the bonus.
The Other Promotions
Pinning down the other bonuses and promos at the operator requires a bit of dedication, but it's a highly-rewarding experience nonetheless. Every day, you will have a chance to participate in a new offer which the operator comes up with to keep you entertained. If you refer to the News and Promotion page, you will find all the available selection of bonus schemes. Most of these are updated every day so it does pay off to make a habit of checking this part of the website regularly.

News of the latest bonuses are given out almost every single day.
Bank Methods for Depositing
| Deposit Option | Transaction Time | Service Fee | Minimum Deposit |
| --- | --- | --- | --- |
| VISA | Immediate | 0% (no fee) | £10 |
| MasterCard | Immediate | 0% (no fee) | £10 |
Bank Methods for Withdrawing
| Withdrawal Option | Transaction Time | Service Fee | Minimum Withdrawal |
| --- | --- | --- | --- |
| VISA | 1 Day | 0% (no fee) | £20 |
| Skrill | 1 Day | 0% (no fee) | £20 |
| Neteller | 1 Day | 0% (no fee) | £20 |
| Bank Transfer | 1 Day | 0% (no fee) | £20 |
Deposit and Withdrawal Methods
Explaining the Wagering Requirements
If you care to beat the casino at their own game, you will have to know a few finer points of the whole gambling experience. The provisos known as wagering requirements are there so that the casino and you strike a preliminary deal. You get some extra cash, but the operator will have you fulfil a set of conditions so that you may claim the funds and withdraw them to your bank account.
As far as the prerequisites on All British Casino go, you needn't worry. Albeit the sums that you may acquire as your welcome offer are not staggeringly high, you ought to be familiar with certain basic aspects of the gambling experience. Each offer will come with a few foibles.
The expiry date – Every bonus will inevitably have an expiry date or a completion deadline. You need to familiarise yourself with both and act accordingly.
The playthrough requirement – We draw our own distinction between what playthrough and a wagering proviso. We hold the playthrough to be the total number of times you ought to stake your money. Most commonly, casinos ask you for anything around 30x with 35x being the norm. Anything beyond that could be a tad steep unless you are wagering moderate amounts.
The depositing proviso – Sometimes, a bonus welcome offer or otherwise, is not immediately available. You will need to do some proper digging on your own and see if you need to deposit a single time or multiple times.
UK punters have nothing to fear about when playing on the home's bastion of all things gambling. All British Casino will present you the rules of the game in a clear manner that disperses any doubt form what the casino actually mean at any given time. Wager safely & securely.
Slots
Video slots on All British Casino are definitely not boring. Developed to embody the industry's latest standards for quality of picture & sound, you may now enjoy yourself spinning reels on the four Asgardian Stones or participate in the laid back Aloha! which greets you with generous paylines and quite the colour graphics!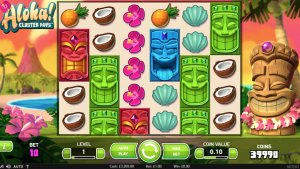 Aloha! slots by NetEnt.
You needn't be a high-roller by heart, but if you want to push the coin value a bit, you can easily be staking £20 a spin! We gave the demo version a go and quickly managed to add £1,000 on top of our winnings. However, playing demo is slightly different. You may be slightly less inclined to burn through £200 without a single win if you are a budget player. Then again a sweet victory such as ours is quite tantalising. Remember, there's no difference between the RTPs in demo and real play.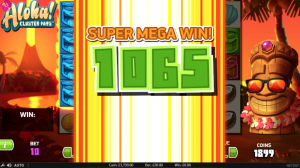 Getting a "Super Mega Win" on Aloha! slots.
Live Dealer
We love the live dealer offers. Looking at the Nattily dressed professionals who tune in from the live studio with games running 24/7 smacks of a real land based casino. We enjoy joining the gabfest via the chat option, seeing the dealers dote on us, and even crack jokes, but above all else – stay on point. Powered by Evolution Gaming, All British Casino easily has one of the most accomplished live dealer bargains.

There are plenty of live dealer products on offer, powered by Evolution Gaming.
And if you are looking for high limit games, the live section is your preferred destination, always. Make sure to keep an eye on the promotion page so that you will never pass up on a great opportunity when it's available.
Contact Information
If you come across a thorny issue, there's no reason for alarm. The customer care agents at All British Casino is quite accomplished and will provide you with the solution to even the most pressing bugbear. Support is available 24/7 and you can get help through various channels. Live chat will be the best way to chat with the casino, but if you want a more personalised approach, make sure to dial 0044 20 3695 2907.
All British Casino offers a safe harbour for UK gamblers who have got tired of trying to find a reliable gaming den. If you want to pursue gambling in a fun & safe environment, this operator deserves an honest chance.