LeoVegas Casino Review
LeoVegas immediately strikes with a fairly standard design which nevertheless offers much more than meets the eye. Scroll for a while, and you will understand the immensity of the gaming offer quickly. As soon as you glance upon the main panel, you will behold the unadulterated selection of the casino. A welcome bonus that offers you a staggering sign-up amount and progressive jackpots that continue to tick towards a new record amount. With a retro feeling written all over it, you will be tempted to quickly explore the mobile offer and the whimsical bearded mascot inviting you to check out the other promos on the website. Adding more players by the day, LeoVegas merits a closer examination.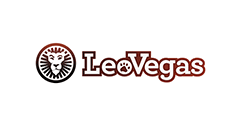 Top mobile-friendly games
Staggeringly inviting promos & extras
Responsive & reliable customer support
Hits
Huge variety of live dealer games
Software provided by a variety of industry leaders
Endorsed by the UKGC & MGA
An app that works with both iOS and Android-powered devices
Misses
Sometimes miscommunication occurs between customers and support, but these are quickly patched up to the client's benefit
Lack of title-specific promotions
Game Selection – Viva LeoVegas
LeoVegas doesn't dither over tough choices. As one of the oldest-standing operators, the website has been reinvented with a distinct retro feeling and you can spot the trappings of an old-timer. However, there is nothing rusty about the game selection and all the gaming wheels seem to be well-oiled and spinning! Apart from the hefty desktop offer, you will be able to enjoy over 600 mobile titles, which is a lot even by the industry's standards.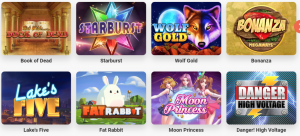 Selection of games on Leo Vegas.
Some flicking around reveals a bouquet of opportunities characteristic of Nevada's sprawling gambling hut, whose name has been borrowed as the operator's. Apart from the video slots, you will quickly notice a selection of classic slots, table games, and live VIP roulette options. NetEnt, Microgaming and Play N' GO have all had a stab at these, and the upshot is a satisfying gaming experience.
Software – Variety is Key
Gone are the days when an operator would only collaborate with a single developer. Quite honestly, the competition in the iGaming sector has led to a slew of gaming titles that you would be interested in playing. As a result, industry top dogs, such as LeoVegas, have decided to collaborate with NetEnt, Play 'N Go, Quickfire, and any developer who can bring something fanciful to the table.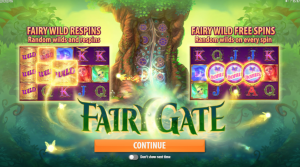 Pictured: Fairy Gate slots game.
Realistic Games, IGT, and Odobo are among the top picks of any operator that wants to be taken seriously. The casino has been built so that you can access its nooks and crannies without breaking a sweat. Owing to the intuitive software, you may play in demo version before even registering an account, which adds to the comfort.
And you may think of the overall layout as a wee bit standard, but a few clicks around the place reveal an instantaneous reaction time, which makes it all very much worth it!
High Rolling – A Place for the Daredevils
Even though LeoVegas doesn't advertise it immediately, the casino is quite well-suited to accommodate to the venturous type of gaming. The betting limits across various tables offer sufficient betting ceilings to quench your betting thirst. Some roulette tables will go up to £65,000 and a handful of more-considered amounts along the way. And then again, you may just as well play at £0.10 a pop, which will keep you entertained for a good while. We'll have a closer look at the RTPs in a moment.
The Bonus Bonanza
It would be hard not to talk about the informative gameplay you experience on LeoVegas. Every game will feature a side panel, which will reveal a bit about the plot of the game itself but also clues you up on what the available RTPs are.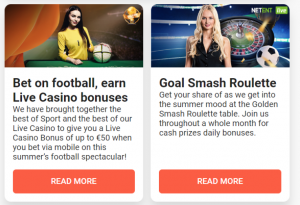 The bonuses may touch on a major event such as the World Cup, too!
It's a brilliant way for you to fulfil a bonus requirement, and bonuses, you'll soon realise, have been prepared to accommodate you, the gamer. You may still want to take a few things into consideration before you start accepting each and every one though, and we're here to help you garner a better understanding of how these treats work.
Welcome Offer – Your Warchest Full!
Operators often scratch their heads when it comes to determining the welcome offer. A matched bonus of £100 doesn't sound too shabby. However, LeoVegas will easily put such largesse to shame, as the casino offers to hook you up with £300 in ready cash and top it all off with 30 extra spins. It's a decent bargain. The entry level has also been adjusted to accommodate even budget players, with £10 cited as the minimum qualifying amount you may deposit.

One of the highlights of Leo Vegas is its accessible welcome bonus for new players.
Of course, the bonus will be better paired with slots, but players who have a taste for table & card games will quickly see that they may get some minor contributions towards their bonus offer from playing a skill-based game, too.
A VIP Loyalty Experience Like No Other
The VIP experience is a moveable feast. You will climb the levels all the way up to 100, and with each new tier, you will benefit from varied and customisable rewards, preferred as small tokens of appreciation. Some specific offers make a timid appearance every now and then, too. It never hurts to be on the receiving end on something extra. In the past, LeoVegas has imparted a tantalizing live casino bonus, too, and you can expect a special treat for you birthday!
The Proverbial Wagering Requirements
All treats & goodies will come tinged with one prerequisite or another. But don't just shrug it off. Let's have a quick look at what these infamous rules that casinos introduce are and how we can bend them to serve our own whimsy and specific gaming needs! A wagering requirement will generally seek to outline the betting course you ought to pursue. This includes several major distinctions.
The Playthrough Rule – Every time you receive extra money, you will get it along with a specific number of times you need to play that amount. In the case of LeoVegas' sign-up offer, that's 35x, meaning you ought to wager your bonus money 35 times. It may sound steep, but it's in fact quite feasible! Admittedly, if you have benefited from the full amount of the bonus, i.e. £300, it could take a while, though. Even then, remember to build your bankroll carefully.
Expiry Date – Dreadful little things designed to impede you every step of the way. Now, you will not lose any opportunities because of pressing deadlines on LeoVegas. However, the complementary spins that come with the welcome offer, need to be settled within three days.
Even after jogging your memory with our review, you ought to remember that bonuses are, for the most part, an exclusive affair. What you need to pick up right now is the ability to do some basic research for yourself. Do have a gander at the stylish fine script every time before you tether your good fortune to a set of predetermined conditions. While LeoVegas works in your best interest, it helps to know what you are committing to.
The Return to Player (RTP) Rates
It's difficult not to be excited about LeoVegas' RTPs. They are generous, convenient, and exactly how it's supposed to be done! Every game has a side panel that outlines a bit of the storyline behind the game itself and presents you with the potential RTP. If you are still scratching your head what RTPs are, it's your return in percentage points. Some games sport as much as 97.30% which is one of the highest numbers on record.

Time to trim the proverbial verge known as Yggdrasil!
Nevertheless, RTP will keep varying across games, so a wild adventure alongside a crew of Vikings may yield slightly less than a cascading space exploration of alternating universes, courtesy of Starburst. What matters here, however, is that you will always keep an eye on what the conditions of a particular game are.
Slots – A Continuously Spinning Fun
Slots are the very identity of all casinos. True, a bunch of you have become dab hands at many of the skill-based games, such as Baccarat, French Roulette, and Blackjack. Video Poker is no small amount of fun to play, but even then – slots occupy a central spot in anyone's gaming activities. We spin and explore storylines at our leisure, hoping to notch up some extra penny on the side. We often do.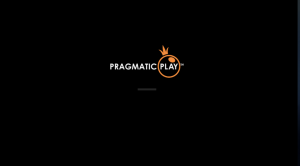 Pragmatic Play is another great caterer for your gaming needs.
What's more, LeoVegas' slots are neatly adjusted for any budget. If you are looking to play more cautiously and consciously, then you may opt for wagers as low as £0.10 at most of the slots. It certainly doesn't promise big returns, but it's a brilliant way to learn the ropes. In fact, you may even explore the entirety of the offer in a 'free play' mode. You won't even need an account. A great way to probe the waters before making any serious commitment.
Live Dealers – Join the Company of Two
If the majority of operators will entrust their live gaming facilities to a single developer, you may rest assured that LeoVegas wants you to have a plump variety. You will enjoy live games delivered by not one, but two industry leaders! LeoVegas employs the spic-and-span services of Evolution Gaming and Xtreme Live Gaming. Oh, and you may expect the quality of service that you would find at a land based casino, which completely seals the deal.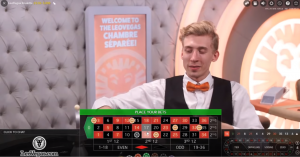 Pictured: Screenshot of a live dealer game.
The game minimum qualifying wagers and ceilings are quite flexible. You can start with as little as a few pence and then plonk down a hefty £5,000 when the moment is right. You will certainly not find yourself of a shortage of options. The screen may accommodate up to 8 titles on any occasion, but if you care to use the arrows left or right, you will quickly need to multiply this amount by ten.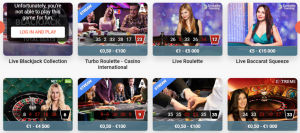 The limits are displayed underneath the game themselves. You need an account to log in as well.
Mobile Friendly, No Doubt
The mobile offer is astoundingly satisfying. A few years back they had still a very respectable selection of games, hovering around 400 smartphone & tablet-friendly games. They have expanded quite a bit since that time, by adding a total of over 600 titles. Apart from the obvious convenience that comes with a portable casino, you will learn to enjoy excellent graphics that are a sight for sore eyes.

A mobile friendly layout.
The interface is intuitive and you'll have no trouble finding your way around. Even better, because the desktop layout consists of a narrow central body, any smartphone would be a great fit for the website. You won't have to need minor bugbears, such as your bankroll and gaming experience. Your funds are shared across devices and you may keep playing using the same username.
There's little that you can't find on the mobile version. We have given it a fair look-about and the offer seemed satisfactory across the board – popular slots and table games are there, and you can even benefit from the company of a live dealer as part of the dedicated offer! LeoVegas is indeed praiseworthy.
Contact Information
If you fancy dropping the good people from customer support a quick call, you may do this in several ways. A UK free landline is available at +44 808 169 9799. If you are from Ireland, make sure to use this one instead: +353 1 800 938655. Any international calls may go to +356 2778 1166.
For queries that may merit more of a consideration, make sure to drop the casino a line at [email protected] And if you are eager to get hold of the casino right away, a convenient live chat option is always there.
Deposit and Withdrawal Methods
Deposit Information
Minimum and Maximum Deposit Amounts
| Method | Fee | Minimum Deposit | Maximum Deposit |
| --- | --- | --- | --- |
| VISA/Mastercard | 0% | £10 | £3000 |
| PayPal | 0% | £10 | £1000 |
| Bank Transfer (via Trustly) | 0% | £10 | £1000 |
| Neteller | 0% | £10 | £10,000 |
| Skrill | 0% | £10 | £1000 |