Whenever you play online casino games, you're in for a thrilling experience – but what if you want a little more? Live dealer games offer you that extra bit of excitement while you're playing your favourite table games. Broadcasted to you live from an actual dealer's table, these types of games allow you to vie for the chance of winning generous prizes while interacting with a friendly and knowledgeable professional.
How Live Dealer Casino Games Work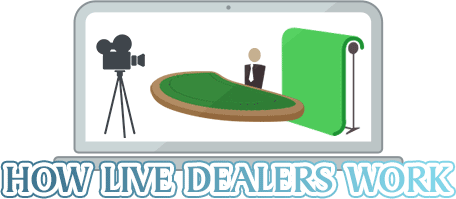 Live dealer casinos work almost exactly the same way as regular online gaming sites. The main difference is that the games are run by actual dealers who are broadcasted to you via webcam rather than on software. Your dealer is located at the HQ of your chosen online casino or from a premises designated by the software provider, and they interact with you using a digital camera.
The setup will look exactly like a land-based casino, with a professional table and chips laid out in front of the dealer. On your end, you'll see a digital layout of the game so you can select your wager and choose how you want to bet.
When you've made your wager, the dealer will spin the wheel (in the case of roulette) or deal the cards. The result is broadcast to you via video and the dealer will let you know if you've won. If that's the case, the money will be credited to your balance right away – just like it would be in a regular online table game.
The process is seamless, and it's the closest thing you'll get to playing at a land-based casino without actually being there.
How We Choose The Best Live Dealer Casinos
There are hundreds of live dealer casinos out there on the web, and it is our job to let you know which sites are the best. We go through an extensive list of live casinos, and pick out the top of the lot based on a few criteria:
The number of live dealer games they have on offer, as we want our players to have access to a wide range of titles
The reputation of their live dealers, ensuring that they are known to be friendly and professional
Whether mobile live casino games are available
The site's commitment to player protection and privacy
The casino's customer service and banking options
Benefits of Playing at Live Casinos
Live casinos bring all of the excitement of land-based casinos directly to you. You don't have to leave the house to experience the delight of hitting blackjack or spinning the roulette wheel while having a chat with the dealer.
While gaming online is always a thrill, avid fans of casino games are likely to begin to miss the live aspects of brick-and-mortar venues. There's nothing quite like seeing the roulette ball land on your number in real life – and, live dealer games give you that pleasure.
Another major benefit of playing at live casinos is that you don't have to rely on a Random Number Generator (RNG). If you're unfamiliar with this term, an RNG is the type of software on which all online casino games run. It makes calculations every second to produce a random outcome on every round.
Many individuals who are reluctant to play at online casinos are dubious because they don't trust RNGs to be completely random. While gaming providers test their software rigorously, it is understandable that players may not want to spend their money wagering on software. As such, live dealer casino games are the answer.
Live Games on the Go
You don't have to be on a desktop of laptop computer to be able to play live dealer games. Many live casino operators provide players with the option to access live casino games while on the go. These titles are powered using HTML5, so they run directly in your web browser. It means that you don't have to download any software to your device, and you can give these games a spin from virtually anywhere.

The best part about this is that you don't miss out on anything. You'll have the same great experience at a mobile casino as you would be accessing the same games from your computer. It all depends on your device and your internet connection – but you can expect great graphics and smooth gameplay.