The progressive jackpot – we both love and admire it. They seem to have a unique way of turning our odd bets into tidy sums, and today we have a closer look at how often jackpots hit and how they are paid. There's a wealth of titles to pick from, but we'll only draw your attention to the most prominent ones and where you can play them. If you have come here to:
Find out how to win the big prize.
Learn more about the rewards themselves.
Compare frequency rate of the payout.
Help yourself understand the progressive jackpots better, then…
You should read on. We cover all of these and more specifics that will help you have a better grasp of the entire segment in a heartbeat. And if you are more of a skimmer, you will be happy to see that we have built our guide to accommodate you better.
What Is a Progressive Jackpot?
Let's begin by explaining what a progressive jackpot actually is. In short, just as the name implies, it is a jackpot prize that increases continuously (also known as shared liquidity) as more players wager money on the slot machine but fail to win. Only when a player finally wins does the jackpot return back to a pre-set amount. It'll then slowly increase once again as more players add to the common pot through losing – until the next lucky player hits a home run.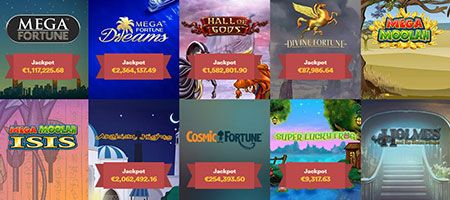 Most casinos make sure that their jackpots are pinpointed and ticking away in a mesmerizing rhythm right on the front page so that you won't miss it.
The flashy banners are also known as Jackpot Meters and they tick away each time a punter loses, making the pot even juicier for you to win!
Do some games offer slightly better odds of winning the big prize? We can't tell you with utmost certainty, but we will provide you with valuable insight into the matter. We have checked out the frequency with which different jackpots get hit on some the most popular slot titles available on the market right now:
| NetEnt | Highest Jackpot | Frequency of Jackpot Payout |
| --- | --- | --- |
| Hall of Gods | €6,630,000 | 24 weeks* |
| Mega Fortune | €17,900,000 | 11 weeks |
| Arabian Nights | £ 8,636,041 | 71 weeks |
| Mega Fortune Dreams | €4,600,000 | 20 weeks |
*Please note that these numbers will always end up varying based on the current interest in the game.
| Mircogaming | Highest Jackpot | Frequency of Jackpot Payout |
| --- | --- | --- |
| Mega Moolah | £13,213,838.68* | 17 weeks |
| Major Millions | $1,945,884 | 6-10 weeks |
| King Cashalot | $1,527,228 | 63 weeks |
| Mega Moolah Isis | $10,754,072 | 10 weeks |
*Currencies solely reflect the winners' preferences. That's why we keep them as announced by the casinos.
| PlayTech | Highest Jackpot | Frequency of Jackpot Payout |
| --- | --- | --- |
| Jackpot Giant | €12,000,000* | 15 |
| Beach Life | $8,211,861 | 18 |
| Gold Rally | $6,347,118 | 10 |
| Funky Fruits | $3,208,089 | 14 |
Now that you have a better grasp of the actual numbers and a historic glance at the payout, big and small, it's time to make an accomplished jackpot winner of you!
How to Win Progressive Jackpot Slots – Great Tips for You
Fine-tuning your game may take a while, but certainly a strategy exists. In order to have a bash at winning the progressive jackpot goodies online you preferably have to come along with a generous budget. Whilst not always the case, the bulk of games ask of you to be prepared to stake the maximum bet to give yourself a shot at the highest reward. And this is where we have to pay attention to the fine print.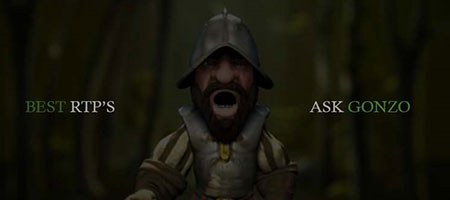 Explore Gonzo's Quest, one of the best-paying slots!
The Return-to-Player (RTP) rates do matter. By focusing on those more so than on the jackpot you guarantee yourself two things:
A healthy budget to keep you going with a solid windfall because of the substantial wagers you are putting;
A better overall chance at the jackpot game.
Each game will come with an individual set of conditions which you will have to be aware of. Best way to do that is to read up on the Help section which comes with the games themselves. The most practical way is to focus on defeating the whimsical RNG and hoping that you hit enough bonus levels to make headway. A familiarity with the nature of the jackpot game is also important.
A Light Flick Through the Extra Rules
As outlined before, there are tendencies to be observed, but even then, a savvy gamer such as yourself will notice the fluctuations in the very fabric of what we think is indeed a fact. With this in mind, it helps to consolidate your overall grasp of the segment entirely. Learn about the basic symbols:
Wild – A one-for-all type of symbol. The feature may substitute any symbol should it appear on a payline. It carries its own value and that's usually much better than the worth of the symbol it's filling in for. Some games offer sticky wilds that remain on the reels after you have activated a bonus spin level. You may not use a Wild to replace a Scatter.
– The scatter is a generous all-around symbol that offers a great selection of rewards, including a winning payout, a neat multiplier or even a bonus level! Some games may have more than a single scatter and it's usually worth checking the Info section before you start playing.
Multiplier – As the name tellingly suggests, you are offered your winning bet times several times. Some games may swell the total number of your winnings by as much as the staggering x25! There are multipliers that actually scale, too, which is a neat feature to consider!
Naturally, you may realise that the different progressive jackpots will come with their own unique sets of tiles and even extra bonus levels! However, we won't be able to cover all the possibilities here, because they tend to be as numerous as the stars in the sky.
Developing High-Yielding Jackpots
Hammering together a game with great payout for the recreational player and a coveted progressive jackpot for the high roller is no trifle task. Many have embarked on the quest, and to be frank – quite the diverse crowd has been working on authentic titles that fill casinos. The Jackpot section is no longer the exotic caprice of a private lot of gamers. Quite the opposite – it's a segment with growing popularity that allows everyone a stab at scooping the big pot of money.
So, who are the masterminds behind the best progressives on offer? We examine their offers below:
Microgaming – A studio that easily boasts the biggest collection on the market with titles churning out at a rapid clip, it's difficult not to admire their efforts. Microgaming are largely the reason why the progressive slots ave become so motley in their shapes and forms and versatile when it comes to pure gameplay mechanics.
Playtech0 – Pair impeccable quality with flawless execution and you arrive at Playtech. One of the industry's trailblazers and sporting some of the most accomplished jackpots out there! They pay between 93% and 95%, which makes these games perfect for you to pursue bigger wins.
NetEnt – None other than NetEnt has the means to tell captivating stories by dint of gameplay, stunning cinematics and excellent payout. You will notice that NetEnt is the preferred provider of software games with the majority of reputed casinos.
We can't name every single accomplished studio here, but if you do find a game by a company you haven't heard about, make sure to drop by our casino software section where we go in-detail on the bulk of noteworthy devs.
Bigger Bonuses with Larger Winnings
Progressive Jackpot slots are no exception to the common bonus rule. If your casino offers free spins, you will want to check out the conditions. Usually, operators use the freebies to focus your attention on specific titles. And yet, most of the casinos we recommend provide you with sufficient leeway to pick your own titles and allocate your free spins the best way you personally see fit. Freebies, though, are usually part of a bigger promotion, and more:
You will usually combine your free spins with a tidy sum part of the welcome package a casino offers.
No deposit and complementary spins are also quite possible.
Special daily and weekly promos may add to your total number of freebies, so keep your eyes peeled.
Trying to put your finger on all promotions is a great way to familiarize yourself with the facilities. You may not quite keep up with all of the available bargains since they are quite diverse and, in most cases, tend to wink out of existence as quickly as they burst into it. You may consider signing up for the promo newsletter casinos run to make sure you get a leg-up in the pursuit of your progressive jackpot.
Wrapping the Jackpot Up
The above guide helps you better understand progressive jackpots. As it turns out, knowing a thing or two will help you fund your bankroll without committing too much money. A smart use of your own funds along with a few bonuses here and there will help you be a winner in the long-term.Whether you hit the desired prize is another matter altogether, but we are inclined to believe that by employing a decent strategy, your chances are looking pretty solid.