Last year was "annus horribilis" for practically everyone involved with the casino business. However, some have managed to rebound in the last couple of months of 2020. One of those companies is Wynn Resorts, which closed out the last year on a relatively high note – they reported a positive adjusted property EBITDA of about $39.4 million.
The casino operator now wants to cash in on the euphoria, for which, Wynn Resorts decided to put a portion of its stocks up for public sale.  About 6.32 million Wynn Resorts stocks have been made available for purchase, which is expected to raise as much as $5.5 million.
The money collected through the sale of Wynn Resorts stocks is going to be used for "general corporate purposes."
Wynn Stocks Traded at ~$118 on Robinhood
The timing is great for Wynn to sell its stocks. At the same time, it also seems that it's still a good time for investors to start buying them. At the moment of writing, the price of one Wynn Resorts stock on Robinhood.com is $118.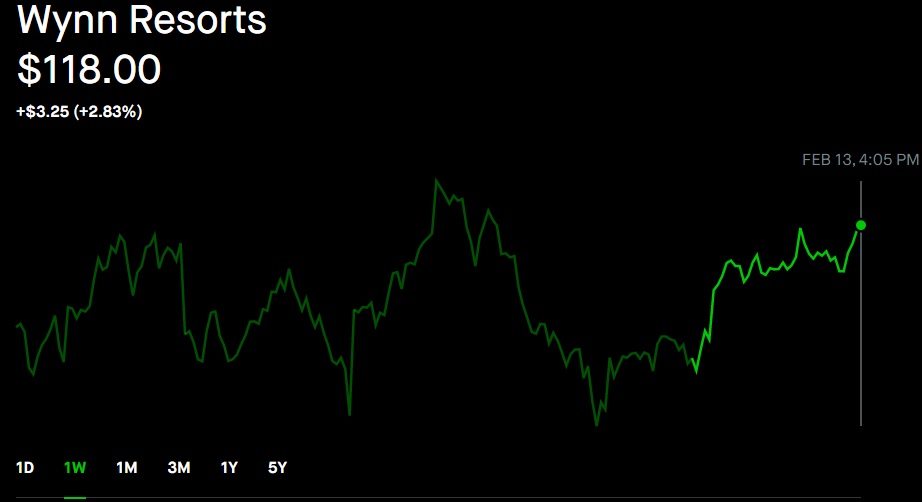 The lowest price of Wynn Resorts stocks was recorded in late January. On Friday, January 29, the price for one stock was $99.53. Since then, the price has been constantly going up.
Last week, we saw the price for one stock going above $116, while this week, it went over $117 before reaching the current price on early Saturday morning.
The reason why buying Wynn Resorts stocks at $118 seems like a good business move is that the price is still way below $136.82, which was its price before the start of the COVID-19 pandemic last spring.
Wynn Stock Improvement Led by Macau Rebound
Things still aren't in order in Las Vegas, with COVID-19 still causing troubles for the casino industry. Good days seem to be ahead as, from February 15, Nevada will ease its COVID-19 measures. As a result, casinos will be allowed to increase their capacity from 25 to 35%. Not a very big improvement but knowing that the vaccination is ongoing, the end of the crisis seems to be on the horizon.
What this means for Wynn Resorts is that their two properties on the Strip (Wynn Las Vegas and Encore) are expected to return to their full glory within a couple of months. Once that happens, millions of dollars will start pouring in the company piggy-bank, which is bound to make its stocks go up.
Until that happens, the main driving force behind Wynn Resorts will continue to be the operation in Macau. Wynn's CEO Matt Maddox was full of praise for the company's property in Macau, calling it "the sweet spot of our company."
In addition, the company has big plans for its online sports betting brand WynnBET. According to Maddox, the internet operation saw its "revenues growing almost 50 percent over the last three months." WynnBET was recently made an official sponsor of the Memphis Grizzlies in an effort to make the brand a household name among American sports fans.